Last Thursday night Paul Lamdkamer gave a lecture at the Knob Noster Garden club about wild edibles and entomophagy, the practice of eating bugs. He's kind of a big deal in the world of eating bugs and has even published recipes in Time magazine. Who knew?! So many new things were learned and he brought samples of bugs and plants to eat. I got to snack on cicadas, grasshoppers, Japanese beetles, and possibly a cockroach. I can't quite remember if it was a cockroach but Paul says he hasn't found a species of roach that you can't eat. The only thing that made any of these bugs unpleasant to eat was the texture as your cracking through their exoskeletons. There was an adorable little three year old boy at the meeting that I encouraged to eat a cicada but his favorite ended up being the cricket flour cookies.
Saturday, I taught an excellent ikebana class at Powell Gardens. I ended up being half an hour late to class because I forgot my students vases at home and didn't realize it until I was half way to the gardens. But my students we so happy shopping and having a girl's day that it was soon forgotten.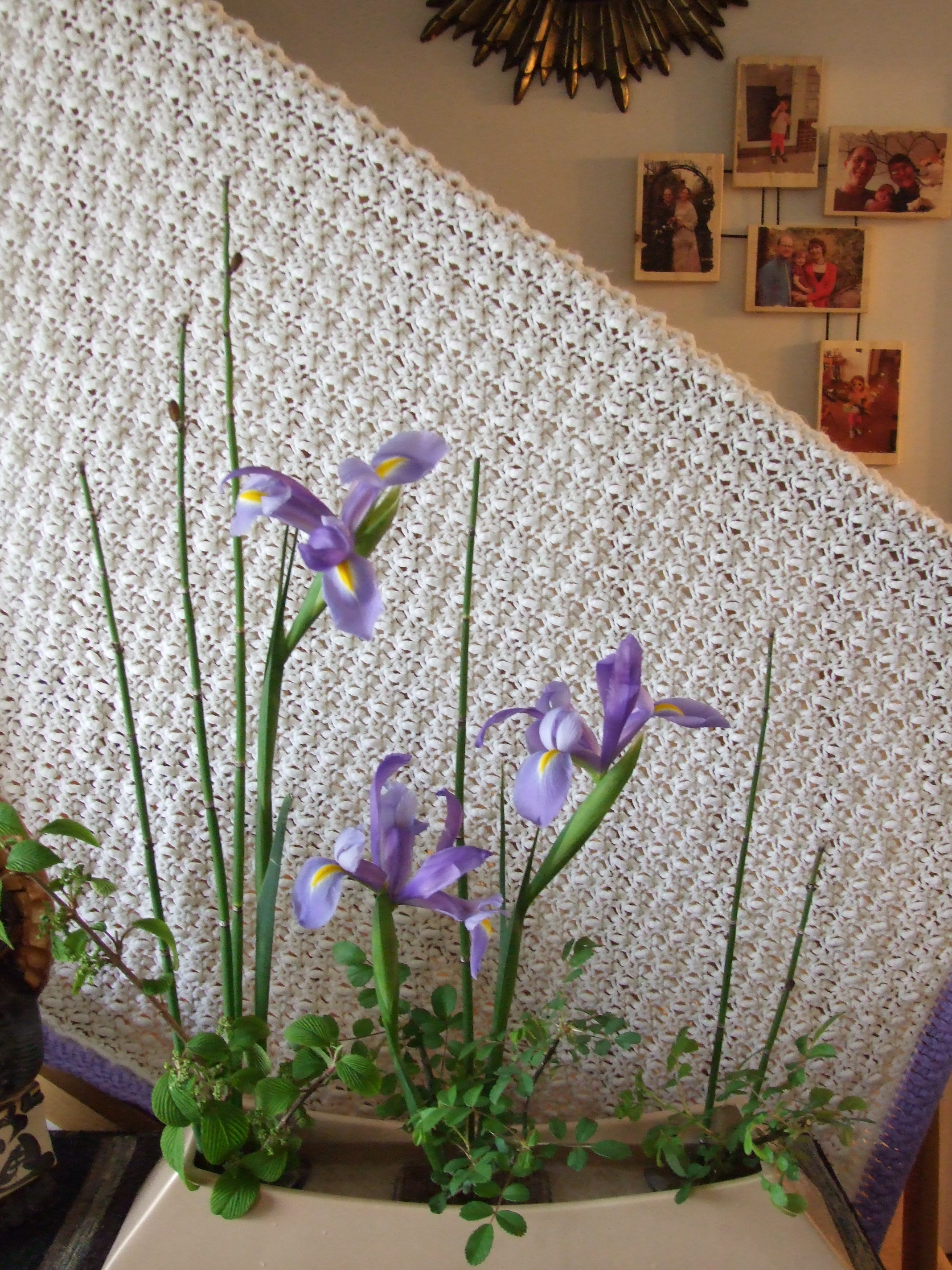 We had some really awesome materials this class. Irises, Red Bud, Horsetails, Wild Rose, and a bush from my back yard. It'samazing to see the variety in my students work despite making the same style arrangement. All the plants have different proportions and then the different material combinations. I can't wait for the next class!
I've been playing a round with collage lately. It's kind of morphed into a 5" by 5" format that is related to natural disasters. Fun quick little projects that make me feel like I'm accomplishing things.
Upcoming Cool Stuff:
The Sogetsu school of Japanese flower arranging in Kansas City is having their annual spring show at the Loose Park Garden Center April 23rd and 24th. They have asked me to come make an arrangement! My arrangement will be down stairs with the tea ceremony display provided by the Japan America Society. Come out and see all the great floral art!
I'm giving a presentation on Kogenzashi, a traditional Japanese counted embroidery, to the Greater Kansas City Fiber Guild on May 11th at 7pm. Check out their website for more details.
My next ikebana class at Powell Gardens will be on Saturday, May 14th from 10-12pm. Check out their website to register!
Farm Report: Cucumbers and carrots are sprouted. Indigo is failing miserably. Maybe I'll start some new seeds?
Reading: Seven Brief Lessons on Physics by Carlo Rovelli. This book is tiny with a cute little black cover. How can one resist? I always feel sad about not taking physics in high school because maybe I should have been an industrial engineer. Building Stuff!
Listening to: The Moth podcast.
Cooking: Wantons full of spicy sausage, carrot, green onion, sauteed in bulgolgi marinade. So delicious!