In the military there is a tradition of members "dining in" with their leadership. Basically, everybody has a big dinner and drinking party that is active duty members only while at work. A few years ago some spouses on this base decided to have a spouses dining in where we all dressed up, ate dinner and drank with each other. It has turned into this spectacular themed event with awards for best costume, best table decoration, best skit, and best limerick. If you don't follow the prescribed "rules" of the event (ex., no clapping, only banging on the table with your spoon) then you are sent to the grog, where you take a shot of this crazy tasting jungle juice while preforming specific movements and saying things. This is the closest I will ever come to being in a sorority and it's pretty fantastic.
The theme this year was Broadway plays inspired by movies. My squadron, 509 Munitions, chose Beauty and the Beast. My fearless hubby designed and we painted this huge castle structure that our table would sit under. We had an abstract is scene of the castle, village, mountains and forests up on top of the castle structures. I got to whip out my set painting skills. It was a daunting endeavor and pretty much every weekend in February was spent practicing for the skit or working on the set. This year they offered 1st, 2nd and 3rd in table and skit and we won third place for our skit. There was much twerking and craziness.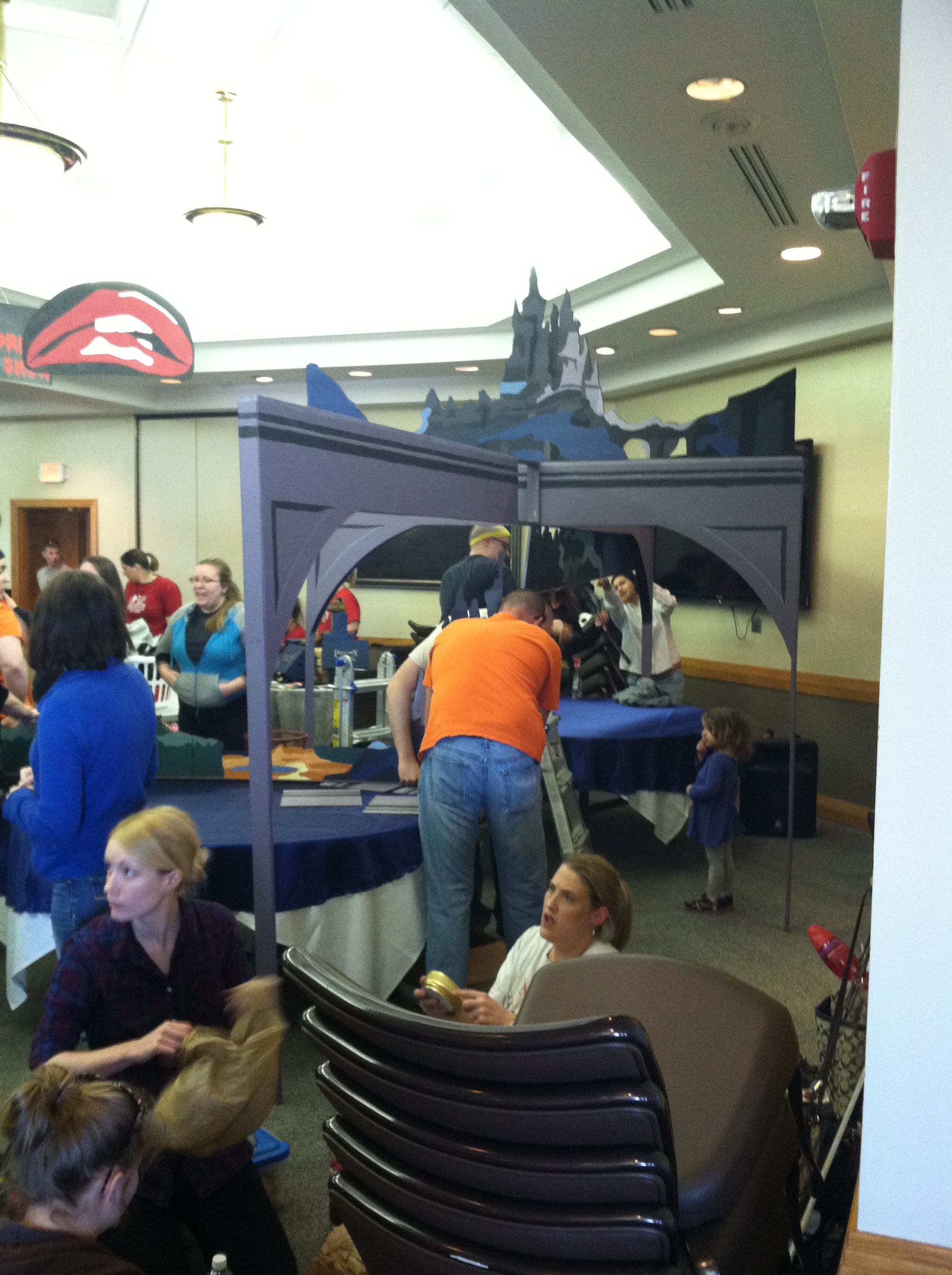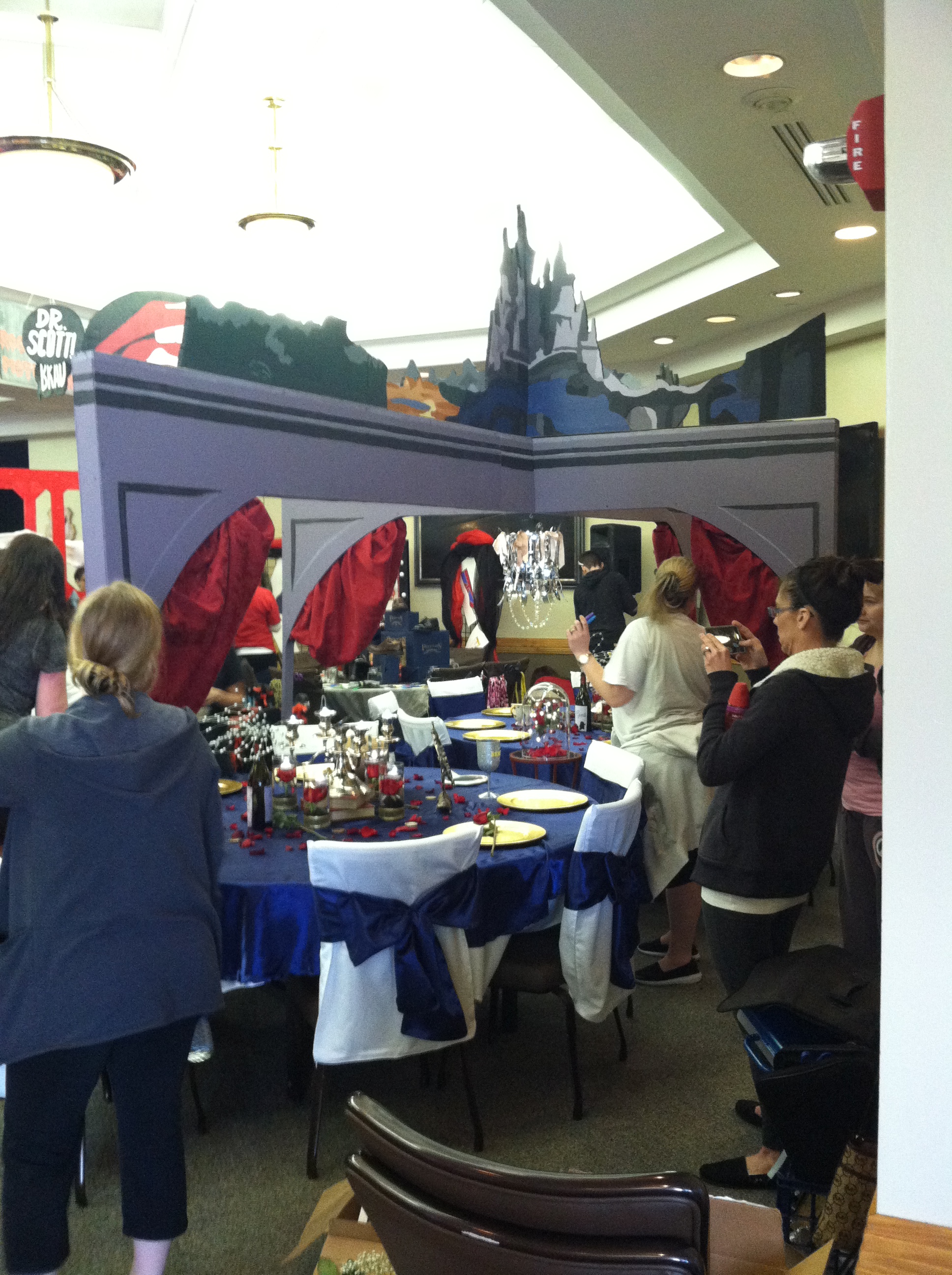 What a night. It was so much work but so much fun in the end. We'll see what craziness we create next year.
My Pysanky classes are going at the Warrensburg community center. I had three students on Sunday after the Dining in. I had lost my voice from shouting over all the music making teaching interesting. We had a great class and a reporter showed up from the local newspaper so they a picture of me kissing my Donald Trump egg. Every year I have a theme for the Pysanky eggs I make during the season and my husband suggested Politics of 2016 for my theme. My first egg would have to be a caricature of The Donald. I hadn't expected him to be quite so orange. Here is a link to the newspaper article as well as a picture of me kissing my egg.
So if you haven't signed up for my Pysanky class there's still time. I have classes on March 12th 9-12pm, March 20th 1-4pm, and March 26th 9-12pm.
In other news, The Greater Kansas City Fiber Guild meeting was last night with a wonderful program by a woman that took a class in weaving brocade and damask. A majority of the lingo was over my head but it made me want to learn more about weaving. I've volunteered to be a demonstrator at the MOPACA fiber show April 1st through 3rd at the American Royal Hale arena in Kansas City. So if you want to learn more about fiber and meet some fuzzy alpacas come on down on Saturday morning and spin with me a while.
The Farm Report: Seedlings are getting taller! I've begun putting them outside on nice days. Here's to strong healthy plants!
Reading: I've gotten back into manga a bit with ST. <3 Dragon Girl by Natsumi Matsumoto. So light and fluffy.
Listening to: Very loud party music.
Cooking: We've been watching the Great British Baking Show and learning how boring American deserts are. I'm inspired to make meat filled pies and pasties now.