I had a birthday on Saturday. I really love celebrating birthdays, especially other peoples birthdays. This year we met up with a college friend of mine and her husband in Overland Park for some good food and art. The more places I move the more I feel the need to reconnect with anyone I might know there.
First we went to Elsa's Ethiopian restaurant. It was so fabulous! The food was so spicy but not hot and I got to try their version of steak tartar again. I can't remember what the dish was called but I fully recommend it. We also ordered some honey wine that is smooth and spicy. I was a little disappointed that Bea didn't try the injera, which is the one thing I thought she would try since it looks like a pancake. Help me, my toddler doesn't eat!
For those that haven't eaten Ethiopian food here's what the experience is like. We all ordered separate entree dishes but we ordered a large platter of the sides. It comes out to you on a tray that has a thin pancake covering the whole thing. There are piles of the different sides on the pancake and then around the edge of the tray there are more rolled up pancakes. The only silverware you have is a large spoon for your entree which comes in a larger separate dish. You tear off some of the injera (pancake) and use it to scoop up mouth sized bites of food from all the sides and entrees.
It's a very communal eating style. Everyone is trying everything else and reaching over and around people. It's great. Sometimes food tastes so much better when eaten with your hands. The best part was taking the injera covering the tray home because it had soaked up all the juices from the sides. Ian and I will try to make our own injera soon. It's just so good.
After the restaurant we went to the Nerman Museum. It's unbelievable that a community college should have such a great contemporary art museum. It makes me want to go back to school. Just think what their art classes must be like.
What struck me most was an installation piece called "The Caretaker" by Amir H Fallah. Essentially, he goes to someones house. Takes their stuff and makes a self portrait of the person without actually painting the person. In his paintings the person is draped in fabric so you can't see their face. From this person he collected his father's sweaters, the mother's needlework collection and his cactus collection. Amir wove all the things that I like together with painting and installation. Then on top of it there was amazing colors going on: teal walls, hot pink lamps, orange cords and ridiculous fabrics. I love how Amir paints fabric and pattern. He's one of those artists that I'm gonna tuck in my pocket and take out from time to time for inspiration.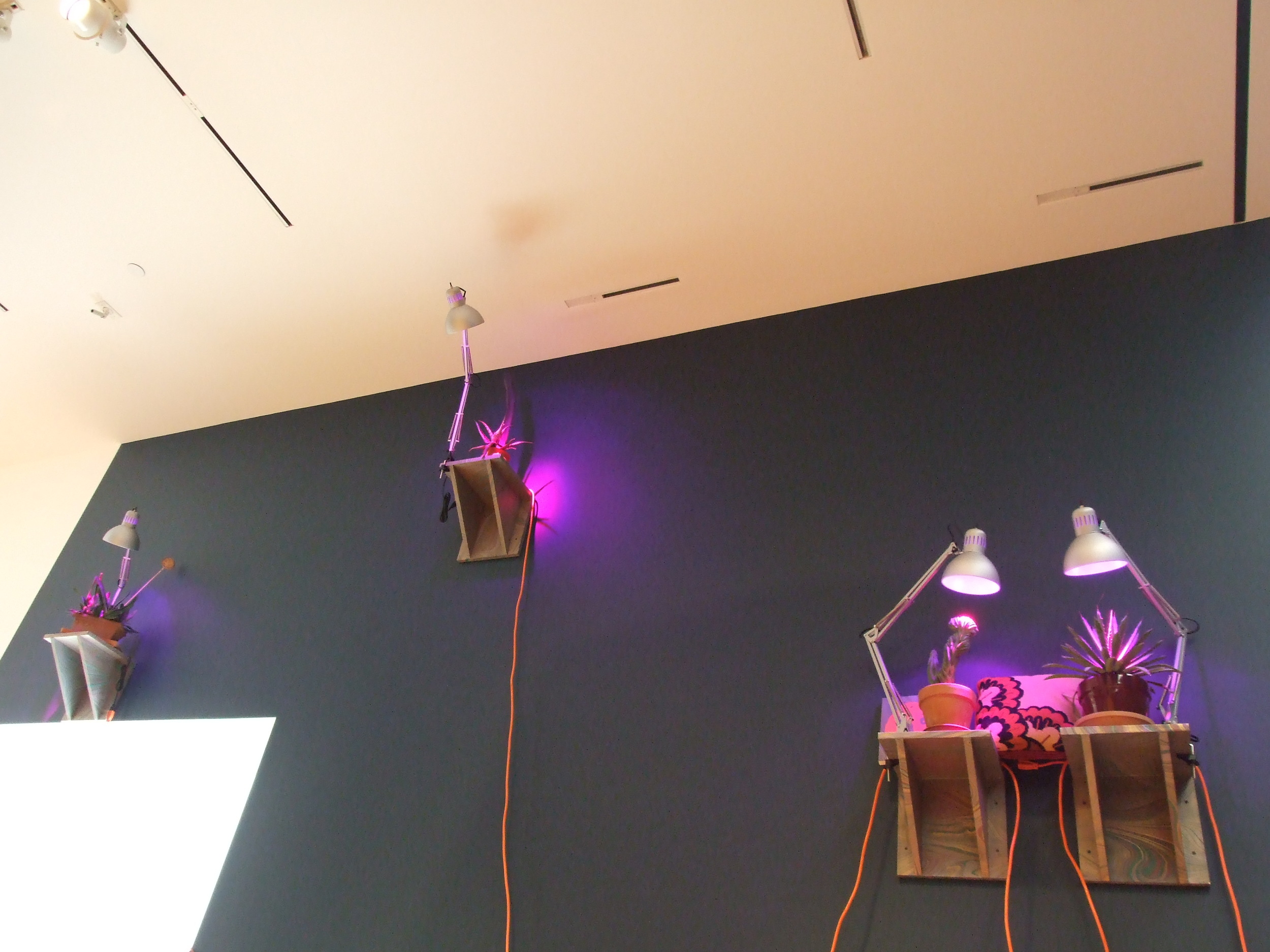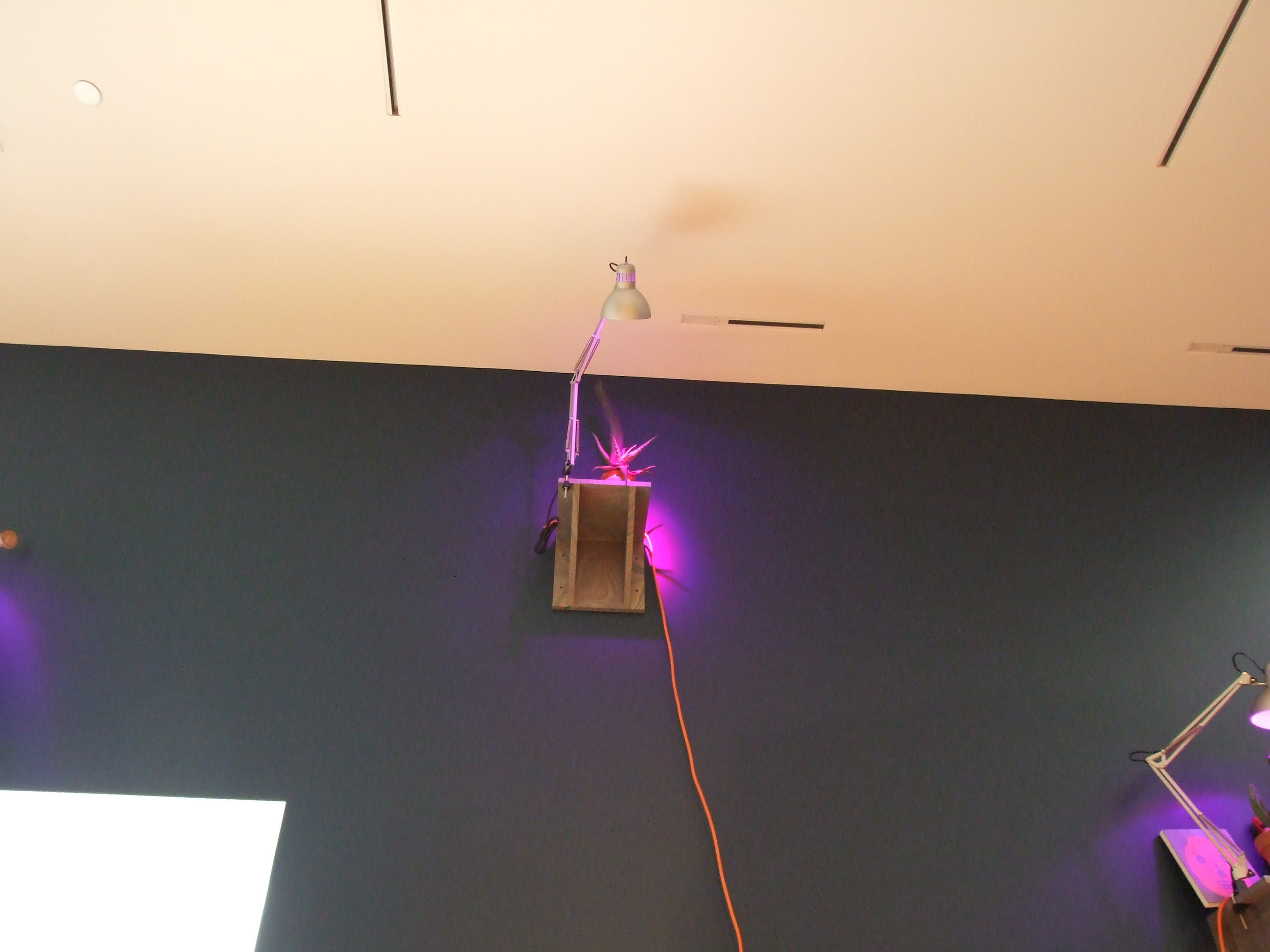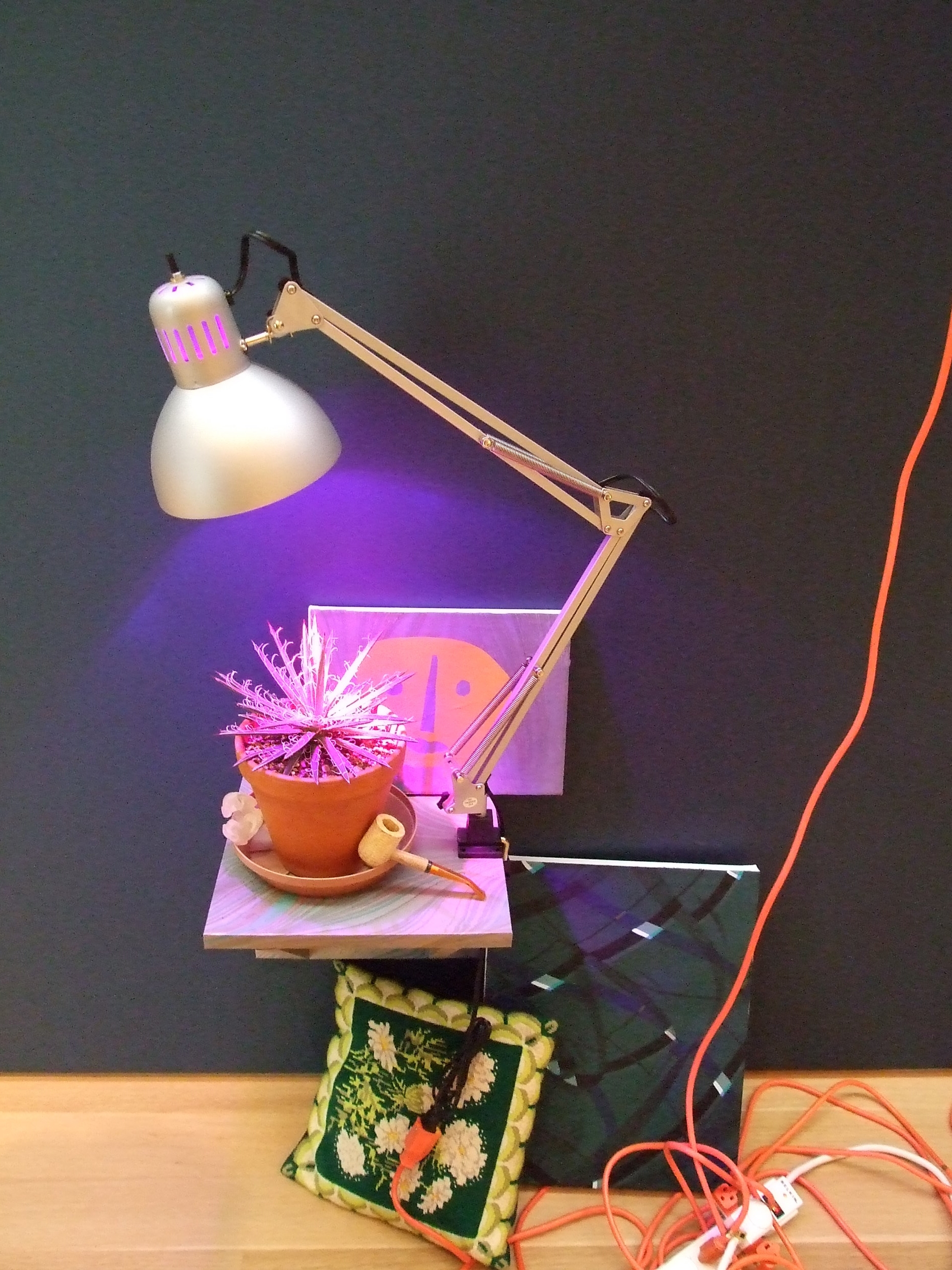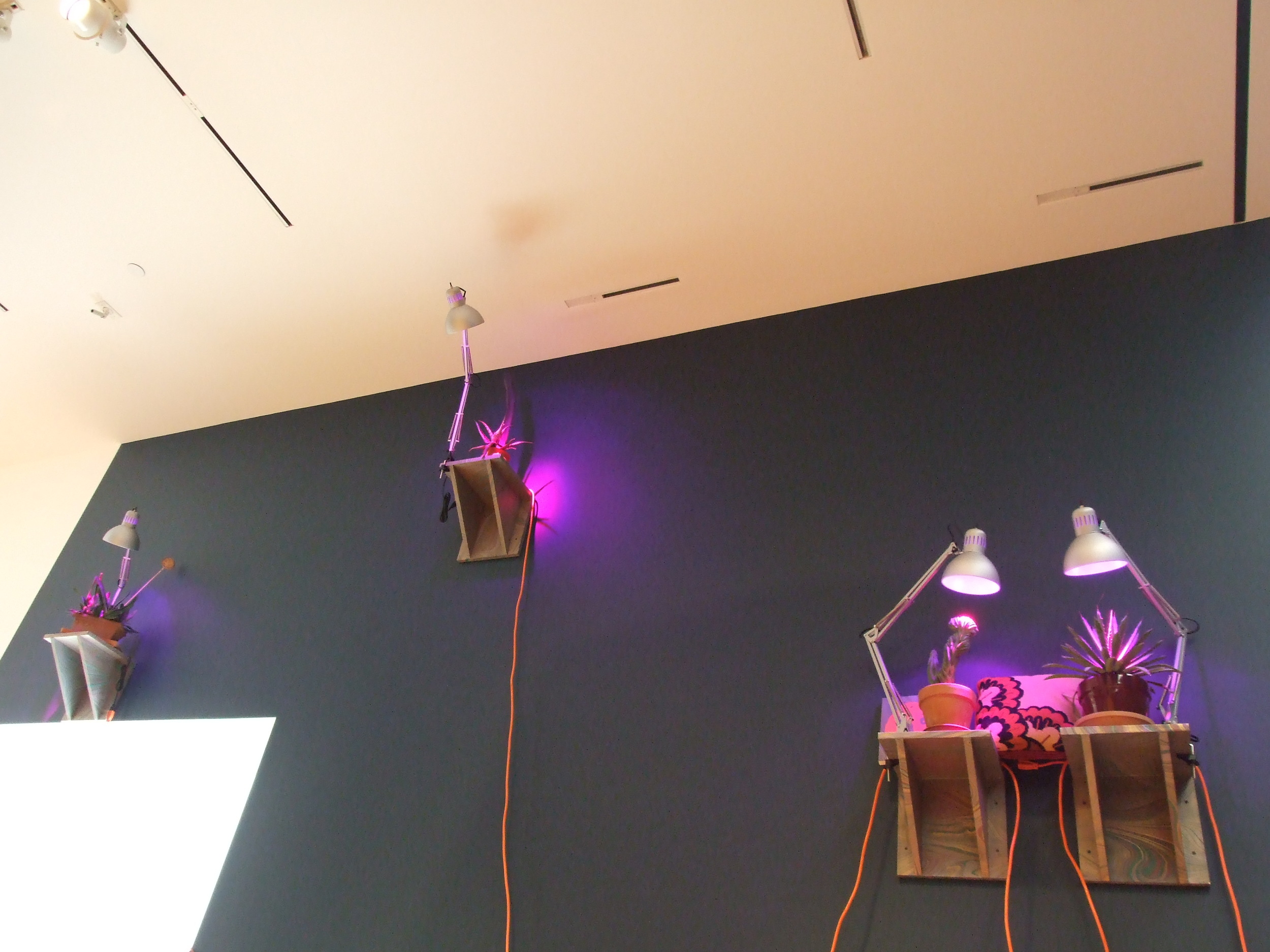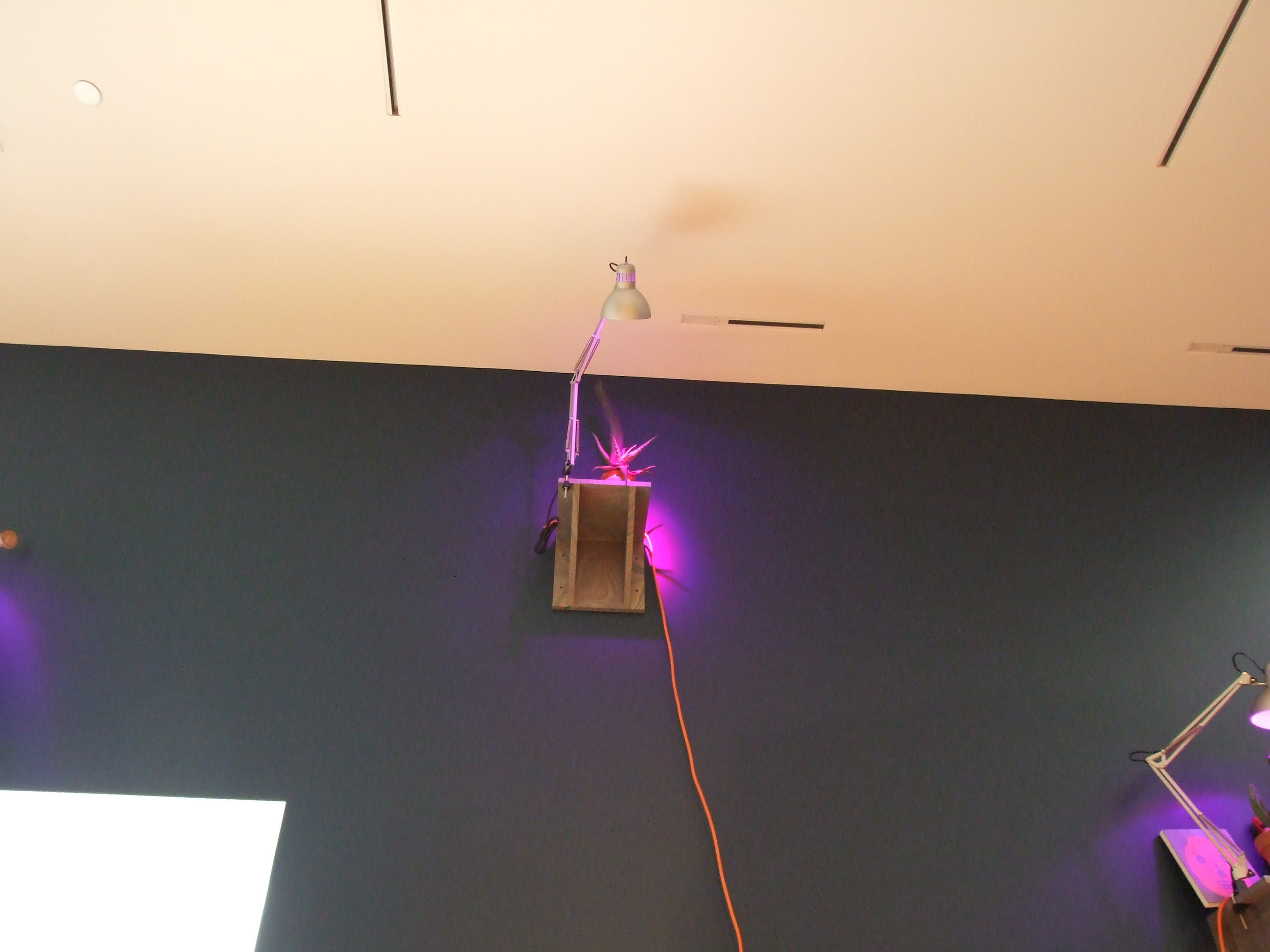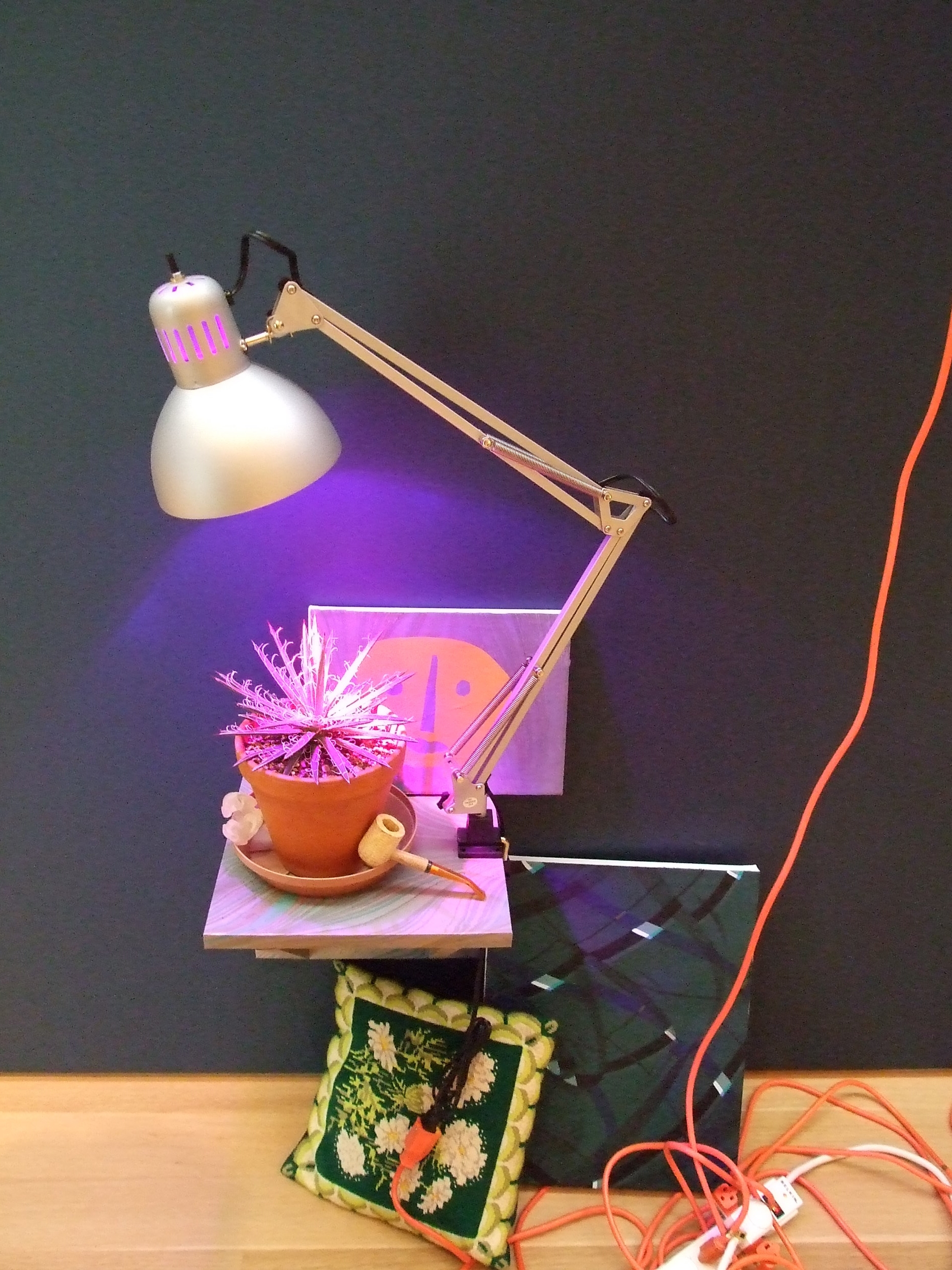 Just a reminder: My Ikebana Workshop at Powell Gardens on September 19th registration will be closing at the end of August so that I have time to order supplies. Sign up soon!
I've also started taking pictures of my textile arrangement. I call it Jewel. My sculptures end up having nicknames that just come automatically and stick. I'm going to take a picture every studio day for 30 days and then make a GIF. At least that's the plan right now. I have a little table for it set up in the studio kind of like a tokonoma and Bea likes to come in and rearrange the balls, add barbies, keep things interesting.
Reading: Between the World and Me by Ta-Nehisi Coates - Now I'm always thinking about race but hopefully this will help me be more conscious in the future.
Listening too: Nina Simone especially "Mississipi Goddam"
Eating: Fair food....I so love a fresh squeezed lemonade and giant corn dog.